The City of Minneapolis has declared a Snow Emergency Nov 29 - Dec 1. You may always park in the lot, and starting Wednesday you may park on either Snelling or Minnehaha. Parking Rules. Map.
NEW! In February, Vanessa is teaching an Advanced series on Wednesdays! Two more new classes starting in February: Ballet for Bellydancers on Mondays and Dance Fitness on Tuesdays!
Jawaahir Dance Academy is continuing regular classes through February, including some brand new classes! After that, Jawaahir encourages dance students to support our city's wonderful local instructors who specialize in Raqs Sharqi and Arab dances. Look to Jawaahir Dance Company founder, Cassandra Shore, and current and former JDC members Renee Szudy, Louise Indritz, Kathy McCurdy, Angela Skrade, and Alana Mari. Also, check out the Guild of Middle Eastern Dance for local events and class listings, and of course stay tuned to us here at jawaahir.org, our newsletter, and social media pages for exciting upcoming events, workshops, and special classes.
Sign up for February Classes today!
Discount code: FirstClassFree.

Welcome to the Academy
Belly dancing for fun, fitness, and grace! Join our dance community of all ages, sizes, and levels of experience to participate in the creative expression, as well as the health and fitness benefits, of Middle Eastern dance. The beauty of this dance form is that it makes you feel wonderful in your own unique body. We challenge all students to achieve a personal best!
You can register, cancel, or reschedule a class up to the last minute. All classes are recorded and you have access to videos of your classes for a full week! If you miss a class, you still have access to the video for that class! You may attend any class either on Zoom or in studio. Your first class is always free with the discount code FirstClassFree!
February Classes
Beginner: Tuesdays, 6:00-7:15p with Alana. $20.


Our seasoned teachers guide you through the basic isolations of belly dance, using what you learned in the Fundamentals course. You begin to create simple combos and create a flow, stringing two or more movements together. You are also introduced to finger cymbals, also called zills or sagat, in this level. Beginning classes are meant to be taken for about a year so you can build a strong foundation for layering movements in higher levels.

Intermediate: Mondays, 6:00-7:15p. $20. Megan.


Feeling comfortable with the basics? Try branching out with our teachers who focus on stringing the basic isolations into more complex combinations within the musical phrases of Arab music. Learn simple layering, directional changes, and turning techniques.

Intermediate/Advanced: Sundays, 10:00-11:15a. $20. Renee.


You're ready for movements with more subtlety and nuance in complex combinations. This class is for students who are well-versed in all basics and all layering techniques. Begin exploring improvisational concepts and practices. Finger cymbals are layered on all movements, and more intricate patterns are introduced.

Advanced: Get a Leg Up on Your Dancing: Wednesdays, 7:00-8:00p. $20. Taught by Vanessa.


By popular demand after Vanessa's articles in Zameena magazine, Vanessa is sharing her tips, tricks, techniques, and combinations that take your dancing to the next level. We are putting these concepts into practice in this 7-week session to help dancers level up their practice! Give yourself the gift of dance as you move into 2023.

NEW! Ballet for Bellydancers: Mondays (Feb 6, 13, 20), 7:35-8:35p. $20. Taught by Tanya.


We work on a few ballet basics that help us in our bellydance. We focus on strengthening and lengthening our muscles through barre work, then move on to a few concepts from ballet such as footwork, turns, balance, and graceful arm pathways. This series will add some items to your dance toolbox that strengthen your foundation no matter your dance style or preference! All levels, though beginners might find it a bit challenging.

NEW! Dance Fitness: Tuesdays, 7:35-8:35p. $20. Taught by Dani.


Come enjoy yourself! Take this dance cardio and light strength training class at your own pace. Options offered for all levels of dance experience and fitness. We get our heart rates up with repetitive dance moves to a wide variety of music including Arabic, Hip Hop, and Pop. There's a warm up and stretch at the beginning of class and additional stretch at the end to improve flexibility.


NEW! Show Me Your Shimmy: Only February 11, 112:00-2:00p. $30. Taught by Tay.


It's no secret that shimmies are Tay's favorite part of belly dancing! Twist shimmies, hip shimmies, choo choo shimmies: I love them all! During this workshop, we review the basics of developing a strong juicy shimmy by incorporating drills, layering, and musicality. Whether you're a beginner and just getting into Bellydance or an advanced dancer, there's something for everyone in this workshop.

Class videos: You have a full week of access to a recording of every class you register for (whether you attend or not). You may drop in but you will not have access to the video unless you register online first. (You may register online immediately before class.) NOTE: We are having difficulty with Tuesday night videos, but we are working on the issue. Thank you for your patience and understanding.

All classes hybrid: You may attend any class either online or in the studio.

Studio Address: 3010 Minnehaha Ave, Minneapolis, MN, 55406. Use 3035 Snelling Ave for GPS to get to our parking lot entrance. More info on our Location page.

All Class Times: US Central Time zone. Use our online calendar to see all class offerings and to check if class is running or cancelled.

Ready to take a class...
Click the Register button and log in or create an account.
Select a Purchase Option (One Time Visit or multi-class pass).
Go to Book Now and register for each class you want to take. This gives you access to the class video for 7 days.
From your account's nav bar...
My schedule: See your own classes. Click a class to join it on zoom.

Book now: See all upcoming classes and book them.

Store: Buy the Purchase Options you use to book multiple classes at a time.

Watch video: (This will only appear once you have a video available.) Watch the video for your most recent class. (It may take a few minutes after class for the video to appear on the page.) If you click the orange All Videos button, all videos from classes you attended (or at least booked) in the last 7 days will appear.

We understand this is new.
If you're having trouble and need immediate assistance, call Eileen at 612-875-5008 or Terry at 612-875-5016.

If you're having trouble and email will do, Terry at school@jawaahir.org.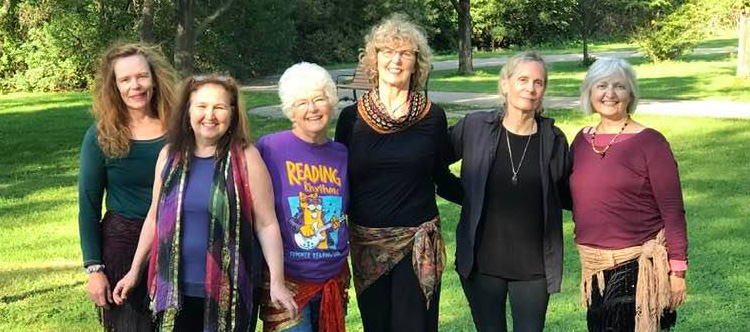 Khazanah (which means Treasure in Arabic) is a multi-level performance troupe of dancers who take classes at Jawaahir Dance Academy. It's open to all current students over the age of 39. Founded in 2013, our dancers include all levels of experience. Our director is Kathy McCurdy, a Jawaahir alumna.
Our mission is to be better dancers, have fun, experience joy through dance, and inspire other older women to dance! Interested? Talk to your teacher.