We are beyond excited to have someone of Vanessa's caliber, expertise, and enthusiasm be at the helm of Jawaahir Dance Company!
Biography
Vanessa is an international performer, instructor, and award-winning choreographer whose credits include regularly teaching at the Nile Group Festival in Cairo during her 12-year residence in Egypt. Her Danse Orientale training includes such greats as Mahmoud Reda, Dr. Mo Geddawi, Hassan Afifi, Raqia Hassan, FiFi Abdo, Dina, Lucy, and Aida Nour.
Vanessa, a native Texan, received her BFA in Ballet from Texas Christian University. She led a dual life teaching and performing classical dance genres as well as training in Danse Orientale, and then went on to dance in New York City for eight years. She established herself as an in-demand NY area Oriental Dancer performing in all the top venues and became well known and respected in the NYC dance community.
In addition to performing in musical theater, off-Broadway plays and varied acting roles there, she also trained with Ann Reinking, Gwen Verdon, and Gregory Hines in conjunction with The Broadway Theatre Project. Her teaching credentials include performing arts camps for children and the Boys and Girls Club of America. Television credits include America's Next Top Model and the WE (Women's Entertainment) Network.
Residing in Cairo for 12 years (2008-2020) she instructed private and group classes in all styles including many of the Egyptian folklore dances. In addition to daily nightclub shows, she contracted in many five star hotels. She performed as a soloist at the Balloon Theater, as well as dancing and acting in various plays through the Ministry of Culture in Egypt.
Previously based for six years in Sharm El Sheikh, one of Egypt's most prized tourist destinations, Vanessa is the first and only (American) woman to start a production company in Egypt. Her company, Vanessa Show Productions, provided a variety of group dance shows specializing in Egyptian folklore, and in addition to offering international, Latin, and Oriental Dance shows. Her dancers were from Egypt and all over the world. She and her company have been featured in numerous music videos and performed for many special events, including the renowned Peace Conference which brought all world leaders together in Sharm El Sheikh.
In 2015, Vanessa relocated to Cairo full-time to continue her solo career in classic Egyptian dance and folklore dance. There, she held a 30 month contract at the Sofitel El Gezirah where she and her musicians performed weekly. While in Cairo, Vanessa performed as a soloist, as well as acting in plays and theater productions. She has performed for the Egyptian Minister of Culture, the King of Bahrain, and numerous officials and diplomats.
Throughout the years, Vanessa has been invited to choreograph, teach and perform at various schools, studios, conventions, events and festivals during her visits back to the USA and internationally, including Egypt, Kuwait, Emirates, Estonia, Netherlands, Germany, Sweden, Australia, Portugal, Chili, Mexico, Japan, and Canada. Many dance enthusiasts from around the world attend Vanessa's shows, and invite her to teach and perform in their countries for their dance schools, festivals and events.
Vanessa traveled to the States from Cairo for her Spring Tour in 2020 and was detained due to Covid. She is now firmly ensconced back in the US, and is thrilled and honored for this opportunity to be Jawaahir's Artistic Director since 2022!
In her own words...
When I was approached in regards to fulfilling the position of Artistic Director for Jawaahir Dance Company, I felt like I was on the right track in my life.

-V-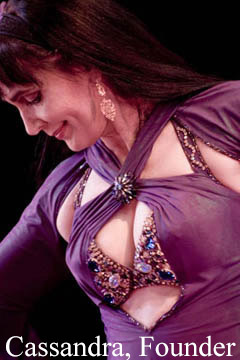 To give a little bit of a backstory… In 2006 (when I was living in New York City), I attended a dance seminar in Minneapolis. At the time I had become friendly with a few of the dancers there in the Minneapolis area; we would typically see each other at various dance conferences and events. While I was there I had the opportunity to see Cassandra Shore perform. She was beautiful. I remember she was wearing purple, and she not only danced with exquisite elegance, grace, and precision, I could feel that she was somebody who knew exactly what it was she was doing. I completely admired her, and made a mental note to remember who this lady was!

Cut to over a decade later, I had been living in Egypt since 2008 dancing full-time as a soloist as well as creating my own production company in Sharm Sheikh. I had been invited to choreograph for solo and group numbers for the Blossom Festival in Toronto Canada. In addition to acting as choreographer for these pieces, I was also invited to speak on several panels. I was thrilled to discover that Cassandra Shore would be on one of these panels! When we finally met backstage before entering for our panel discussion, I marched myself up to Cassandra and said to her, "You don't know who I am, but I certainly know who you are!" … And proceeded to tell her how much I had enjoyed her performance more than a decade prior.

We had the opportunity to chat about a lot of topics through the discussion, and I realized that everything she was saying was along the same lines of everything that I thought. It was nice to feel a sense of community and camaraderie with somebody who had such a profound career spanning so many decades.

Jumping to 2020, when I was traveling back to the states for my Spring Tour—I ended up staying indefinitely due to the sensation that Covid caused. I was still living and dancing full-time in Egypt, and I had absolutely zero intentions of changing paths. It turned out that it didn't matter what I had planned, changes were coming, and I had to roll with the punches. I felt that it was a better option for me to stay in the States at that time.

-V-

I do believe that everything happens for a reason, and that if you are doing what you're supposed to do, all things will fall into the right place at the right time.

I have a dance teacher from my childhood who had a piece of paper on her studio wall which read, "Success is when preparation meets opportunity."

When I was approached about the idea of becoming the Artistic Director of Jawaahir, I realized that this was one of those moments in my life.

Everything that I had done, all of the experiences that I had… From a bachelor of fine arts degree in Ballet From Texas Christian University, to moving to New York City to continue my studies in dance and acting, as well as gaining more experience in performing with live music, to living in Egypt for 12 years and creating a production company, to teaching and offering extensive online coaching (which had never really been something I had done until after Covid)—It was all bringing me to the right place—Jawaahir.

-V-

I'm thrilled to be able to use the things I've learned along the way to continue the legacy that Cassandra Shore has created year after year—decade after decade.

It is a great honor, and a responsibility which only true lovers of this art form would want to have bestowed upon them.

I am here to listen, learn, guide, help, teach, share, and uplift our beloved expression of dance.

I am here to support the dancers who dedicate their time, energy, and effort.

I am here to stay true to the integrity of the art, and to the community who supports us.

-V-

I humbly accept this new chapter.

Yours Sincerely,

Vanessa of Cairo
Artistic Director,
Jawaahir Dance Company